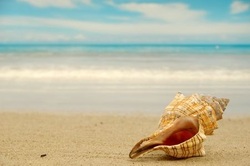 Soon the story will be told.
A Thousand Stars.
It all began in a Caribbean paradise. In 1647.

---
Prologue of A Thousand Stars

Ann

1667, Rhode Island

The center yard in Newport is crowded; the citizens of this town have come to see me. It is the 15th day of May in the year of our Lord 1667, and the crowd has gathered to see justice, but it is not justice they will see. Standing before me is Constable Emery, a short man, his face ruddy and thick, with narrowed eyes reflecting his binding judgment. His sergeant, reedy in his disheveled uniform, has sympathetic eyes, but, I am certain in accord with his given orders, instructs me to remove my blouse and unlace my chemise. I do as instructed, unlacing and removing my cotton blouse, holding it tight in my hand, and pulling the ribbon at my back waist to loosen the smock I wear under my dressing, all the time looking the constable direct in the eye. The sergeant places my wrists in the grips on the whipping wagon and screws tight the locks to hold me still. From the corner of my eye I see Constable Emery, with a slight smile of satisfaction, take his cat of nines from a leather holster. At once I hear the whistle of the air around me, and the first strike startles me. Then, as if with a cadence, one comes after the other, stinging my bare back. By the time ten lashes smite my back, I can feel the warm blood, wet on my muslin. Five more are to come, as the judge had deemed fifteen. I will not cry. I try with all my wit not to wince as the drawn crowd watches and gasps. I close my eyes and know that this shall soon pass. I will soon be free as I have not been free since my youth. Yes, my youth; let me begin my story there, though my memory may be ravaged by time.